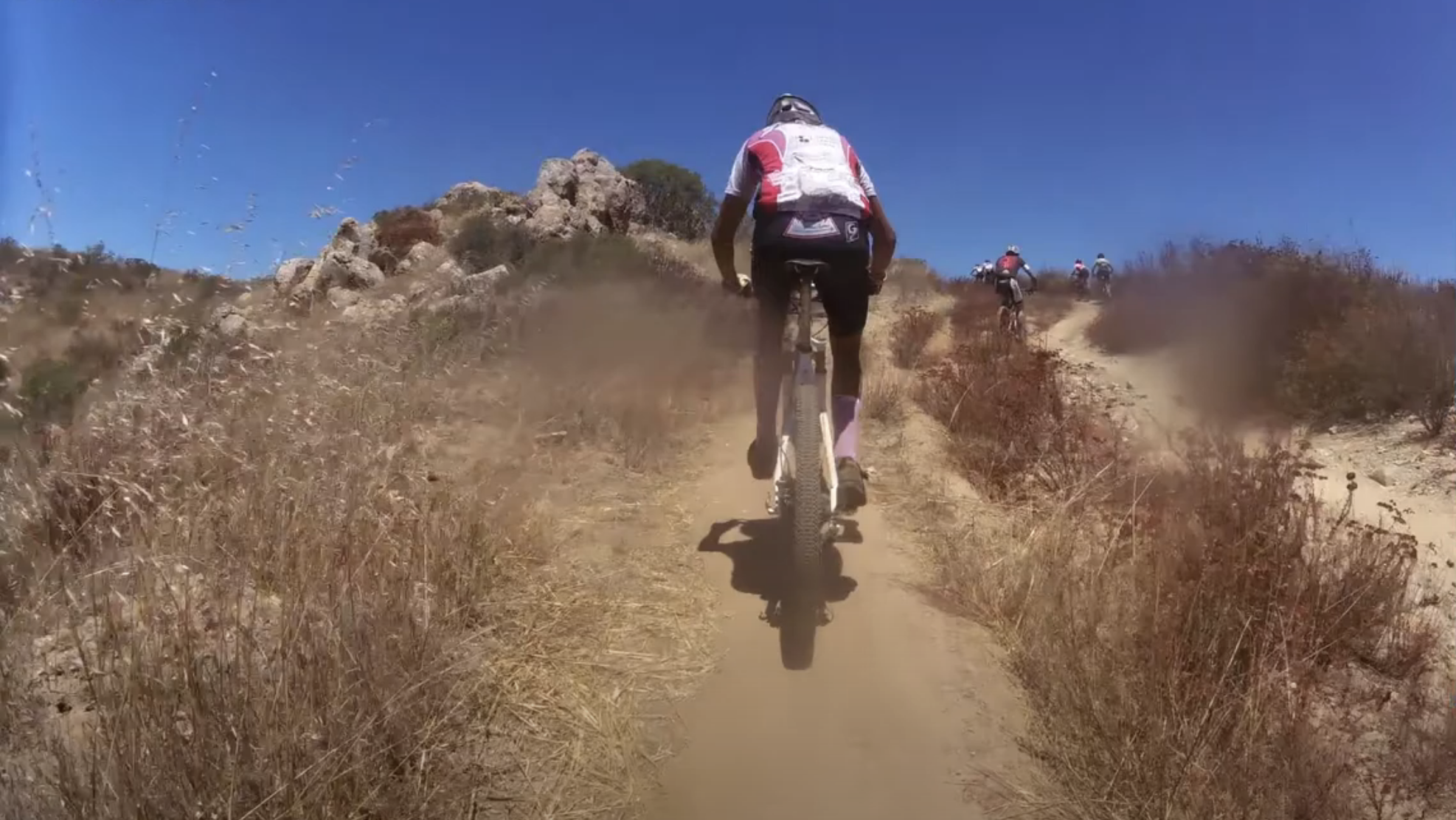 Racing my mtb over 100km and 8,000 ft of climbing
Oct 25 | ( 0 ) Comments
On October 17, 2015 I took place in an endurance race like no other that I have seen, the Baja Ultra Endurance 100km.
Even before the actual race started, a lot of preparation had to be done to try to achieve the best result possible. The first thing that I looked at was my bicycle, which had multiple problems that needed to be resolved. Another very important factor was my training; at the moment that I decided to enter the race I was during my Base period so major temporary changes had to be made. Lastly careful planning had to be made for during the race replenishment.
At first look my bike had some problems which affected the brakes, rear derailleur and on my fork. The easiest thing to resolve was my brake system; it was locking after a medium-long size downhill. To resolve it, my mechanic replaced my entire brake set being that it was still under my protection plan. My rear derailleur we tried to resolve it by replacing the cable and by stretching / adjusting it. This issue however to this date is still under process being that I am still having problems with it. My fork as well is an issue that has not been able to be resolved but we did the effort. We sent it to Fox to have it rebuilt, they replaced the internal damper on it and it gave a temporary resolution to the problem. After some hours of riding however the fork stopped working correctly, but it was still usable. The bike was in good enough condition to pass the mechanical test and complete the race, however this problems would have made it a little bit more easier to complete the almost six (6) hours of riding. My training had to be totally revised in order to compete in this race being that I was in my Base period. The one thing that assisted me was that I had not taken my week off for the year. I immediately stopped weight training, and added a couple of sets of intervals. The week of the event I decided to stop all intervals and try to save all my energy for it.
The final aspect that needed to be planned was the replenishment points where my team will meet me. This was very important, as energy restoration is one key factor in completing an endurance event successfully. We decided to establish 6 meeting points at 18.9, 28.5, 41.4, 48.3, 54.9 and 59.9 miles on the 64.4-mile course. During this quick stops we had to do some basic restocking to make sure that I was on my right track which included: 1) Checking the tires for any flats, damage or loss of pressure 2) Change water bottles 3) Check chain and oil if necessary 4) Change video camera battery (2 times only, at the first and third checkpoint) 4) Replenish food, drink coke (high sugar and caffeine, towards the end of the race) and bring that heart rate down.
After all the preparation had been completed it was finally time to race, the only thing that I did not like about it was that it started at 7 am so that would mean that my wake up time would be 5 am. To many persons this is not a very bad thing but I just do not seem to be a morning person. However I managed to wake up and get my thought together to change, eat a little and warm up before the race. After about 15 minutes or so and a couple of 30 second intervals I headed over to the start inflatable arch, where about 5 minutes later after I arrived the start was given. There I saw a lot of familiar faces, which I have not seen in years, since my time in the junior ranks. The start was quicker than what I expected being that this was a 4 and a half hour race at the latest, and that is if you are Jeremiah Bishop. I took the advice of my power meter and kept and constant rates, watching at first everyone pass me. After the first climb 'Los Pinos' I started to see my position get better and better, which I am thinking is due to people going to fast at the beginning basically. The '1×1' climb which was right after went quick and allowed me to reach my first replenishment point at 8:43 am, which was about 15-20 minutes behind the leading group. I continued on after completing the checklist and with no problems, which allowed me to reach the second checkpoint about 45 minutes later, which was right before the famous 'El Cielo' or The Sky climb. This climb even tough it is only a couple thousand feet of climbing became famous because it's changing grades and endless turns after an approximated 3,000 ft. of climbing make it seem like it will never end. There is one section towards the end of it which is knows as 'La Pared' or The Wall which has an inclination of about 17 degrees, only abut a quarter of a mile long but the most horrible one that you can think off. After this point I remember that I saw a cyclist on the ground crying for mercy as his legs were giving him some horrible cramps and he was already out of water. I was as well cramping up but nothing like what he was experiencing. Which was ironic being that on the pre-race meeting they made it a must-know and hear point that you should replenish before it. However thankfully I was prepared for it and was carrying an extra water bottle with me, which I happily gave to him being that I knew that the worst was already done, I had a full bottle still left and my next replenishment point was not very far away.
I have to say many people told me that the worst was done after this point, that it will all be downhill from there but nop. Do not believe everything they tell you, I reached the next point one hour and twenty minutes after I saw them last time at the beginning of 'El Cielo'. There I replenished, did all the usual things and took a quick 5 minute brake. I started and decided to step it u a little bit being that I already had 6,000 feet of climbing behind and knew that the rest was all supposed to be small or easy climbs. I did good going towards the next point with some minor cramps but excited being that after a small climb the coolest part of the race was going to appear. This is an area called 'Rampage' after the famous Red Bull race in Utah, which curiously occurred a day before the event took place. This area is a long downhill that passes trough the ridges of various hills, and then goes down via very technical switch backs that made my arm cramp like crazy. Close to 11:32 is where I managed to survive and make it to the replenishment point we had set up at mile 45.9, which technically was my last one being that after this one the race was on. Cramping up and everything I was managing to see familiar faces and passing them, giving me no time to stop. I had still some energy in the reserves being that I had been careful to save energy (maybe too much), and I attacked all the way until the end where it was a close race for 6th place. I was managing to keep a good lead for it but about a quarter of a mile before my legs cramped up completely and gave Julio Burgoin the opportunity he needed to pass me and take it away from me. This last part was very fun as it had on most of it a technical downhill, which allowed me to showcase my handling abilities and give me that lead that I needed, which again I unfortunately lost. That is racing however, and there is always next year I just need to train harder to try to get that 10% increase in my abilities which was needed to win this race.
I completed the race under 6 hours (5:56:01) which was my initial goal, but I was very exhausted. I sat down to take a brake and waited to be picked up by my team, which took longer than me to make it there due to the street closures. I got my bike on the car, went back to my cousins house to shower and rest a little bit more before my long but successful way home to San Diego. This event was more demanding than what I had expected, one, which my level of training had not taken me to ever before. It gave me inspiration to find new routes techniques for training. It showed me how far behind I am of the bunch even though I train as hard as I do. To some people that would mean devastation, but to me, to me it just gives me hope… Knowing that there is still long ways to go before we reach our goals. Oh, I also learned that I need new shoes being that the little blisters I thought were irritation, well lets just say they were not very small after the event.
The day after I did rode for a little bit for recuperation, about an hour and a half of easy mountain biking. I reflected on what had happened the day before, downloaded all the data to my computer and rested until I fell asleep. And finally on Monday I went with Martin, which work wonders with my muscles for a deep tissue massage, which believe me, is the best part of my whole week during this hard times. I as well took my bike back to the mechanic to try to get my issues resolved, which hopefully will be completed before the end of the week. They sent the fork back again to Fox; we will see what they come up with now.
Please leave your comments below, let me know what you think and / or if you are thinking of doing it and need some pointers.
Thank you for reading!
Gilberto Cortez - USA Cycling & TrainingPeaks Certified Coach