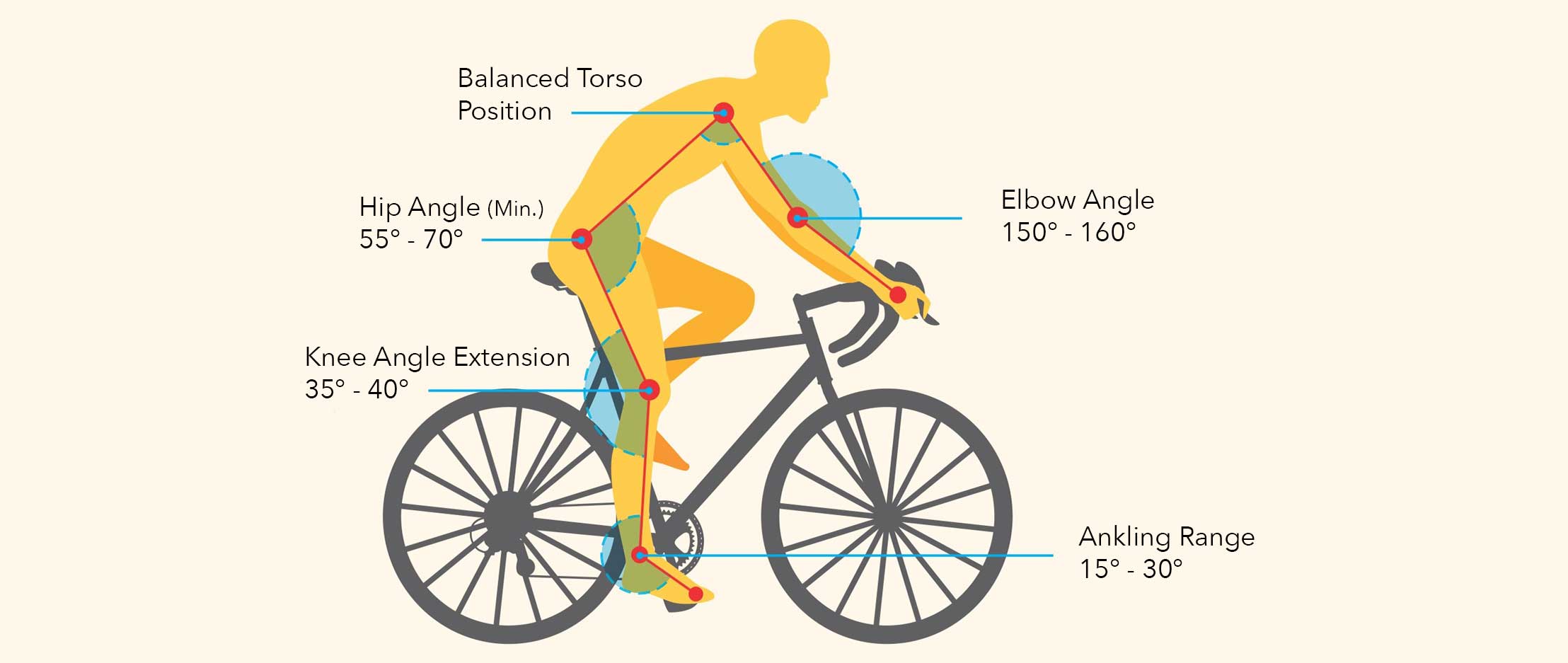 Bike Fit Services in San Diego
My commitment is to help you ride in the most effective and comfortable way possible
If your bicycle (does not matter if it's a road bike, mountain bike, time-trial bike, hybrid bike, or any type of bicycle) is well fitted for you specifically, riding it will become way more comfortable and convenient. You will be able to ride longer while at the same time improve your ability to distribute your power more efficiently. All of this while minimizing your fatigue and any muscular issues that a non-properly fitted bicycle could attract.
Cycling should be enjoyable, especially if you love it. However, after long hours of riding with a bike that hasn't been fitted, the ache you will fill could make you want to consider walking or even stopping instead.
Bike fitting is a real blessing to riders, and anyone can do it. It's not limited to any particular set of riders, nor is it just meant for professional riders. It is for all cyclists like those who love riding for fun, as well as for new athletes, especially for them it is very important to get fitted. This way, they can get start riding with no complications which might cause them pain in the future.
Why is a Bicycle Fit Needed?
Bicycle fitting is probably one of the most necessary tasks a rider should complete. It doesn't just make riding more comfortable; it makes it possible for a cyclist to push more watts for long hours with ease. A well-fitted bike can as well reduce the risk of accidents and muscular issues. In our bike fitting I will make sure that the fit is neither too long / low nor too short / high, but a good balance specific to you and your way of riding.
What are some of the most common issues a proper bike fit may fix?
Foot Numbness and Pain: A poorly-fitted bike can lead to pressure on the nerves in your feet, causing numbness and pain. The right bike fit ensures proper foot positioning on the pedals and appropriate shoe-pedal interface, reducing pressure and preventing numbness or pain.
Achilles Pain: Achilles pain can occur due to poor pedal and saddle positioning. The right bike fit optimizes pedal and saddle height, reducing stress on the Achilles tendon and preventing pain or inflammation.
Hand Numbness and Pain: Improper handlebar height and reach can lead to excess pressure on your hands, causing numbness and pain. A proper bike fit will adjust the handlebar height and reach, distributing pressure evenly and relieving hand discomfort.
Neck or Shoulder Pains: Incorrect handlebar height or an improperly angled saddle can strain the neck and shoulder muscles. A professional bike fit ensures proper handlebar and saddle alignment, reducing tension in the neck and shoulders.
Lower and Upper Back Discomfort: Riding on a bike that is too long or too short can cause you to overreach or hunch, leading to back pain. A proper bike fit will match the bike's frame size to your body size, ensuring a comfortable riding position that minimizes back discomfort.
Knee Pain and Discomfort: Knee pain can result from poor pedal and saddle positioning, causing misalignment of the knees during pedaling. A proper bike fit adjusts pedal and saddle height and fore-aft positioning, promoting correct knee alignment and reducing pain.
Numbness in the Pelvis Area: Excessive pressure on the pelvic area can lead to numbness. A proper bike fit will adjust the saddle height, tilt, and shape, ensuring even pressure distribution and relieving pelvic numbness.
Difficulty Reaching or Staying in Drops: Struggling to reach or maintain position in the drops may indicate improper handlebar or stem length. A bike fit will adjust handlebar height and stem length, making it easier to reach and stay in the drops.
Repeated Saddle Sores: Saddle sores can occur due to friction, pressure, or moisture. A proper bike fit will select a saddle shape and material that suits your anatomy, adjust the saddle positioning, and recommend appropriate cycling shorts to prevent saddle sores.
Excessive Cramping: Muscle cramps during cycling may result from poor bike fit, dehydration, or nutritional imbalances. A proper bike fit adjusts the bike to your body, allowing for efficient muscle usage and reducing the risk of cramps.
A bike fit will make a bicycle that is right for you to one that is tailored to your body and style of riding
Here is a summary of the steps that I take when fitting an athlete to his/her bike:
Athlete Questionnaire

Learn about the athlete

Primary Discipline

Mountain Bike
Road
Track
Time Trialist
Amateur Rider
Commuter

What (if any) are the cyclist issues?
Flexibility
Record body metrics

Learn about the bike

Perform indoor bike fit on stationary trainer

Record initial position (picture or video)
Complete on the bike fit

Lower Body Bike Fit
Upper Body Bike Fit

Record final position (picture or video)

Outdoor Testing
Adjust as Necessary
Record Final Position

Deliver customer a copy of initial and final assessments
Optimizing your bike fit will radically improve the way you ride
During this fitting process there are some key areas that need to be addressed. When having a proper bike fit completed it is important to consider multiple factors, but it is always a good place to start by checking the following areas:
Improve pressure balance on the three contact areas:

Hands

Handlebar
Levers / Hoods
Gloves

Pelvis

Saddle
Seat post
Cyclist Shorts

Feet

Pedals
Cleats
Shoes
Crank (Length)

Check Angle / Extension Measurements
Achieve a balanced position with a good reach

Elbow relaxed
Balance back angle (Not too aggressive or relaxed)
Balanced neck and head position (naturally looking up the road)
Balanced ankle position (Neither overreaching nor with heel-down)
Why Should I Invest in a Professional Bike Fit Instead of Doing It Myself?
While it's possible to attempt a bike fit on your own, a professional bike fitting is the most reliable and effective option. As a certified USA Cycling Coach, I have the expertise and skills to deliver one of the finest bike fitting services in San Diego County. Here's why you should choose me for your bike fitting needs:
Experience & Expertise: With over 15 years of racing experience and 5 years of professional coaching, I have honed the art of bike fitting to perfection. My knowledge of cycling and anatomy ensures you'll receive a fit tailored to your specific needs.
Precision & Accuracy: A successful bike fit relies on attention to detail. I utilize state-of-the-art tools and equipment to achieve a precise fit. My meticulous approach ensures each aspect of the fitting process is executed with the utmost care.
Customization: A one-size-fits-all approach doesn't work in bike fitting. Whether you're a junior, endurance, or amateur cyclist, I understand that your needs are unique. I take the time to assess your specific requirements and create a customized bike fit that aligns with your goals.
Versatility: I offer bike fitting for all types of bicycles, from mountain bikes and hybrids to road bikes. Regardless of your age, gender, or level of experience, I can provide you with a bike fit that enhances your comfort and performance.
Post-Fit Support: My commitment to your cycling success extends beyond the bike fitting session. I'm available to address any questions or concerns you may have, ensuring you enjoy the long-term benefits of your bike fit.
Buying Guidance: If you're in the market for a new bike, I can help you make an informed choice. I'll consider factors such as brake lever location, crankarm length, handlebar width, stem length, and seat angle to recommend a bike that suits your riding style and allows for proper reach and leg extension.
Ready to Experience the Difference a Professional Bike Fit Can Make?
Don't wait to elevate your cycling experience. Contact me today to schedule a professional bike fitting that will transform your ride. Whether you prefer an on-site or mobile fitting, I'm here to accommodate your needs and help you achieve your cycling goals. Let me guide you to the optimal balance that unlocks your best performance on the bike.