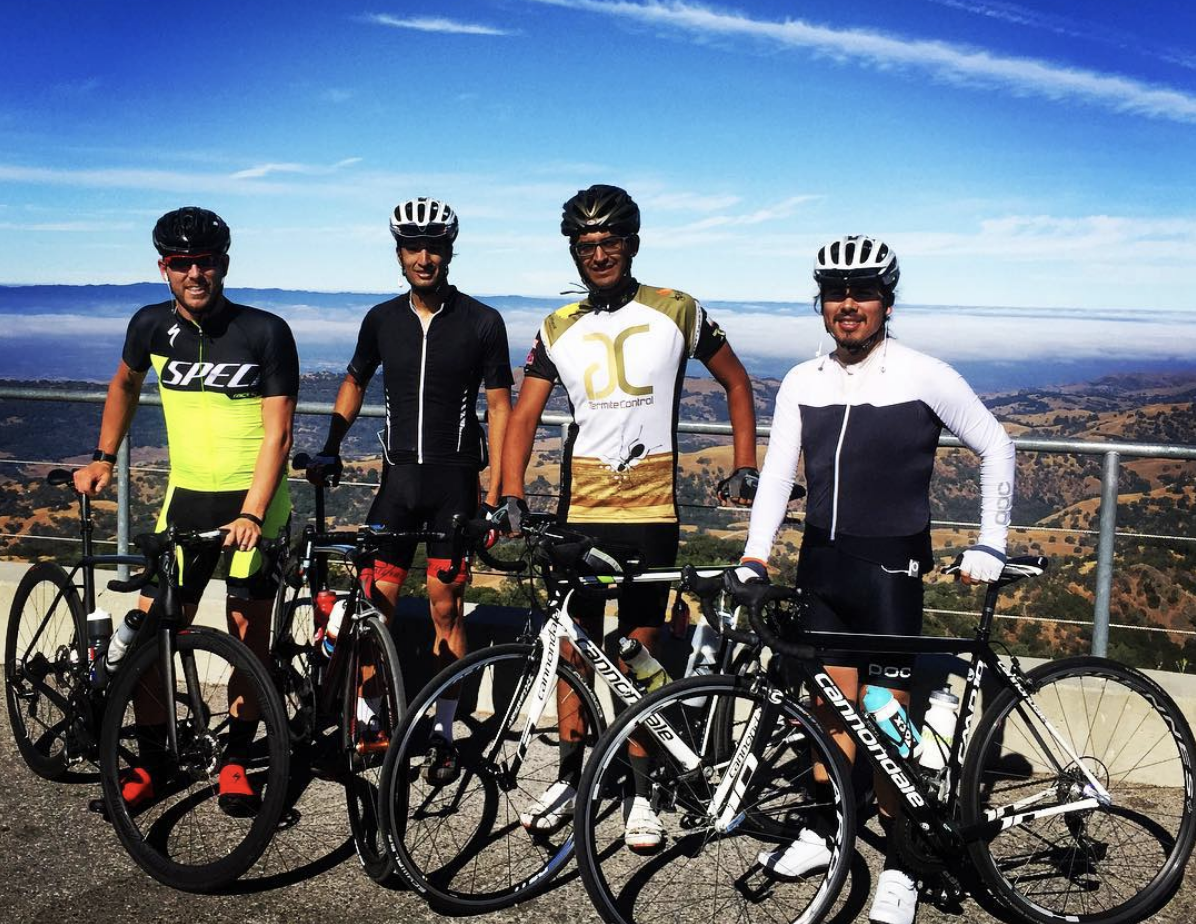 Kenny's BDay Rides & Cycling in Sillicon Valley
Aug 31 | ( 0 ) Comments
I have to start by saying Happy Birthday to my good friend Kenny Tsuda who just turned a year younger this past August 30th. To celebrate having him with us for another year we decided to have a mini riding vacation, if you can call it that. He decided to take the week before off to relax an ride, and we saw it s the perfect opportunity for me to go ride up north in San Jose and for him to do some riding down south in Chula Vista as well.
On the evening of Friday August 1st I started my 7 hour drive to San Jose, CA. I decided to start it after the regular commutting hours so that I can minimize my travel time, and it worked out pretty good except for a couple of accidents in the Los Angeles area. After a long drive and a well deserved stop at Dennys I arrived at the Tsuda's residence, which was were I was going to stay for the next couple of days. I have to take as well a brief moment to thank them for their hospitality and support, they made me feel like I was at home and I am extremely gratful for it. I took a well deserved rest for some hours so that I could be prepared for what the next days will bring. In the morning Kenny had a 5k Wipe Out Run, which I decided to skip and instead I spent some time with his parents. After I woke up Ken (Kenny's Dad) and I decided to go to a local bicycle swap meet, to which Kennys Mom joined us as well. We had a great time looking for anything of value at a good cost, however we did not find anything. We did manage to get some coupons for a sporting store, which was perfect as I needed to buy new gloves because my great dog Amy had ate them a couple of days earlier. We finished our search for bicycling goods and started to head back to the house, but not before stopping at the Google Complex and riding one of their bikes as well as in the Museum of Computers to gain some insight into our technological history.
Kenny was already waiting for us at the house by the time we got back, he was ready to go ride like me so we decided to not waste any more time and start our adventures. We started by riding on Saratoga Gaps, which was up in the mountains and was extremely fun. We rode for a little over an hour covering almost 11 miles and 1700 feet of climing. The area was very fast, with lots of roots, quick downhills and steep hills. After this ride we decided to conquer a second area, so he took me to St. Joes which is one of his prefered training areas. This particular ride was 37 minutes with over 6 miles ridden and almost 1000 feet of climing. It was basically one long hill with different gradients followed by a quick and fun down hill to the truck. This rides made our first day a very productive one, we decided after finishing up to go back and rest as the following day was going to be a little bit harder.
For sunday Kenny had a epic ride planned, going up Mt. Hamilton which was part of one of the queen stages of this years Tour of California. A couple of his friends joined us, both of them named Chris. One of them worked with Kenny at Apple while the other worked with Specialized Bicycles. We took 2:50:46 to climb 4,882 feet in 41 miles. Very fun ride, steady climbing thats is basically divided into three main climbs with short flat areas in between. After completign this epic ride, we decided to start our long drive down south to my house in San Diego.
The following day after driving and riding so many hours during the weekend we decided to take an active recovery day. We did a short hour and a half ride around Sweetwater Reservoir at an easy pace. This made it a very fun ride as it gave us the opportunity to chat, recover, take pictures and admire the wildlife. As a recovery meal we had Phils BBQ, which has the best Baby Back Ribs that both of us have ever tasted. As a dessert we stopped at our mexican fruteria and puchased a Sandia Loca, which is pretty much chips, peanuts, candy and fruit on a watermelon with hot sauce and lemon, very nutritious. The rest of the day was resting.
The following morning we started our ride early to try and avoid the heat. It did help us avoid, but the rain as the whole ride was filled with scattered showers which only seemed to get worst as time went by. Our route for this tuesday was to ride to Coronado Island and back, which was mostly flat bike paths (closed to motored vehicles separated from the streets). This gave us the opportunity to have a mini time trial practice, however my legs were not feeling it after our previous days of riding. We completed a total of 42.6 miles in 2:27:55 with an average power of 214 watts.
After our final ride we had a quick meal and Kenny started to get ready for his plane travel back to San Jose. He packed his bike, his gear, and a little bit after 4 pm I dropped him off on the San Diego International Airport.
We managed to ride for almost 9 hours in those short 4 days. It was a great experience as well as excellent preparation for what is to wait next year when I race against Kenny in Cat 2 at the Kenda West Cup. You never know I might be able to get some more good results next year if I do what I am supposed to,
Thank you for reading!
Gilberto Cortez - USA Cycling & TrainingPeaks Certified Coach